Despite the challenges of COVID, we've managed to continue cultivating our research and moving forward during the summer months here at CMIL. This quarter's highlights include two successful internship programs, recognition of two of our faculty, and an extensive list of grant awards.
For the first time ever, the CMIL hosted students from San Diego Mesa Community College in an internship program lead by Ph.D. candidate Jessica Griffin, with help from SDMC Biology Professor Paul Detwiller. The goal of this program was to give hands-on research experience to community college students who may not otherwise have access to such opportunities. Interns were paired with graduate student mentors, and for 10 weeks worked side-by-side with their mentors on their projects for a fully immersive scientific experience. To learn more about the students' experiences, check out the highlight video below put together by the SDMC. Several of our interns also documented their experiences through a few short blog posts, which can be found here: Chloe Van Patten's Intern Blog and Joseph Burch's & Joe Gawlik's Intern Blog.
In addition to hosting college students, we were fortunate to also host two high school student interns from the Pinhead Institute, a Smithsonian Affiliate program based out of Telluride, Colorado. These students traveled from Colorado to live in San Diego for 8 weeks and participated in an 8 week program where they assisted with marine ecology research in two of our faculty labs. August EarthTree learned about eelgrass ecology with the Hovel Lab, and Lulu Pumayalli learned all about seaweeds with the Edwards Lab.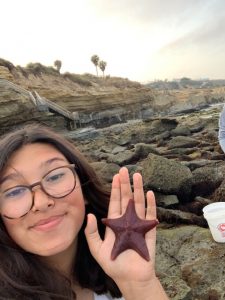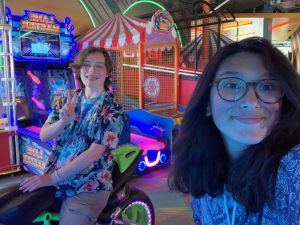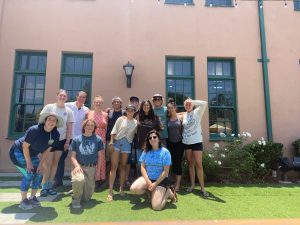 Dr. Bob Zeller received a distinguished faculty award at the 2021 All-University Convocation to recognize his leadership, dedication, hard work, and commitment to the Biology Department and University.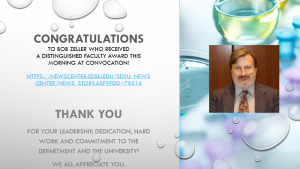 Dr. Rebecca Lewison was named as a Big Ideas finalist for her lead role in the Community Climate Action Network, which looks to create cutting-edge, actionable research and scholarship that will result in community driven transformation around climate impact.
Last, but certainly not least, the round up of recent grant awards to our faculty and affiliated faculty:
Dr. Rulon Clark and Dr. Jeremy Long – California Sea Grant College Program: "Improving the Siting and Practices of Offshore Finfish Farms in the Southern California Bight by Incorporating Historical and Modern Data from Islands Near Existing Fish Pens"
Dr. Todd Anderson and Dr. Brian Hentschel – California Sea Grant College Program: "Land-based Echinoculture in California: Developing a Recirculating Aquaculture System (RAS) and Protocol for the Enhancement of Purple Urchin Roe"
Dr. Kevin Hovel – National Science Foundation: "Indirect Effects of Climate Change on Blue Mussels Via Changes to Mussel Parasitism"
Dr. Megan Jennings and Dr. Rebecca Lewison

California Strategic Growth Council: "Connected Landscapes for Climate-Resilient Southern California Communities and Ecosystems"
The San Diego Foundation: "Valuing Carbon Sequestration in Natural Landscapes: Ongoing Efforts and Future Opportunities"

Dr. Rebecca Lewison

National Science Foundation: "Multi-Campus Transformation Network"
National Science Foundation: "Graduate Research Fellowship Program (GRFP) INTERN – G. Schmidt"

Dr. Jeremy Long

U.S. Department of Defense U.S. Navy: "Studying the Impacts of Non-native Species on Native Marine Invertebrates in Support of Black Abalone on San Nicolas Island"
U.S. Department of the Interior National Park Service: "Cooperative Research and Training Program Concerning the Resources of Cabrillo National Monument for Students at San Diego State University"
National Science Foundation: "Determining the Driving Factors of the Corynactis Associational Refuge – Fellowship X. Boone"
National Science Foundation:  "Herbivore Community Assemblage Response" (Fellowship – R. DeSantiago)

Dr. Luke Miller – California State University Monterey Bay: "Development of Cost-effective Metrics for Monitoring Living Shorelines"
Dr. Walter Oechel

City College of New York: "Financial Assistance to Establish Four National Oceanic Atmospheric Administration (NOAA) Cooperative Science Centers at Minority at Minority Serving Institutions"
Fondazione Edmund Mach: "Investigating Manifold Strategies to Face Climate Changes in Viticulture"

Dr. Walter Oechel and Dr. Samuel Shen

City College of New York: "CREST"
City College of New York: "Financial Assistance to Establish Four National Oceanic Atmospheric Administration (NOAA) Cooperative Science Centers at Minority"

Dr. Walter Oechel and Dr. Donatella Zona – National Science Foundation Office of Polar Programs: "Multi-decadal Year-round CO2 and CH4 Fluxes to Understand Long-term Impact of Climate Change on the Arctic Carbon Balance"
Dr. Forest Rohwer – U.S. Department of Defense Naval Information Warfare Center (NIWC): "Coral Reef Arks: A Cost-effective and High-return Tool for Restoration and Conservation of Coral Reef Resources on DoD Submerged Lands"
Dr. Jillian Maloney – Los Angeles County Museum of Natural History Foundation: "Paleolandscapes, Paleoecology, and Cultural Heritage on the Southern California Continental Shelf"