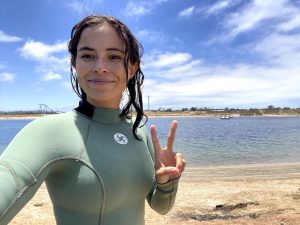 Sea Urchins stink! No truly they do. Emma, who works at the CMIL lab showed me what she does twice a week, which involves taking a self pump vacuum and cleaning out the urchin tank. Those little things eat and eat and poop a lot, and boy do they smell. One of the very tedious and (might I say) interesting tasks that I have had the pleasure of partaking in!
It's been a real eye-opener seeing how marine biologists work each day in the CMIL lab. I really thought that researchers worked solely on their experiment, but it's one of the most collaborative environments I have been in. Everyone helps out on each experiment and it's a very unique team dynamic. I have been fortunate enough to help out on various projects from mussel cage building to tagging lobsters to meticulously wiping down 500 blades of eelgrass for an east coast lab that is studying diseased eelgrass on different coasts. 
Since June, each day has differed for me and it's given me a very well rounded look at what a day in the life of a student researcher is like. It's a lot of hard work, a lot of data, and you have to be on top of your tasks. One of the most interesting tasks we did was called seining. The researchers took a few empty bottles to a marine site to take water samples. Within those water samples, they hope they get a DNA profile of the marine site. We then went in with a massive net and counted and identified each individual species we caught within the net. The hope is that the animals we identified will come up as DNA in the water sample that was taken from the area. This is technology I did not know existed, and I got to be part of it.
I applied for this internship to get a chance to experience marine research before I applied to graduate school. I was so excited at the opportunity to work underneath a Ph.D student and really see what it would be like to work in a lab or do this for a living. I have been the mentee of Jessica Griffin, who is currently studying the effects of anthropogenic stressors on species interactions in eelgrass communities. I am really interested in this work as I have always been intrigued about human impact on the environment, so this has been a great experiment to be a part of!  We go out together each time I am in the lab and check on her experiment. It has been super cool to see her idea come to light and her experiment in action. We go weekly to clean off the cages and make sure none of the cages are damaged.
Like I said before, this takes hard work. The amount of grit and passion these researchers have is admirable. I absolutely have loved my time at CMIL and it's shown me that a career in marine biology is possible and exciting. I am looking forward to continuing volunteering when I can throughout the year and getting my certification in scientific diving so that I can participate in diving research.
Thank you CMIL & Jessica!