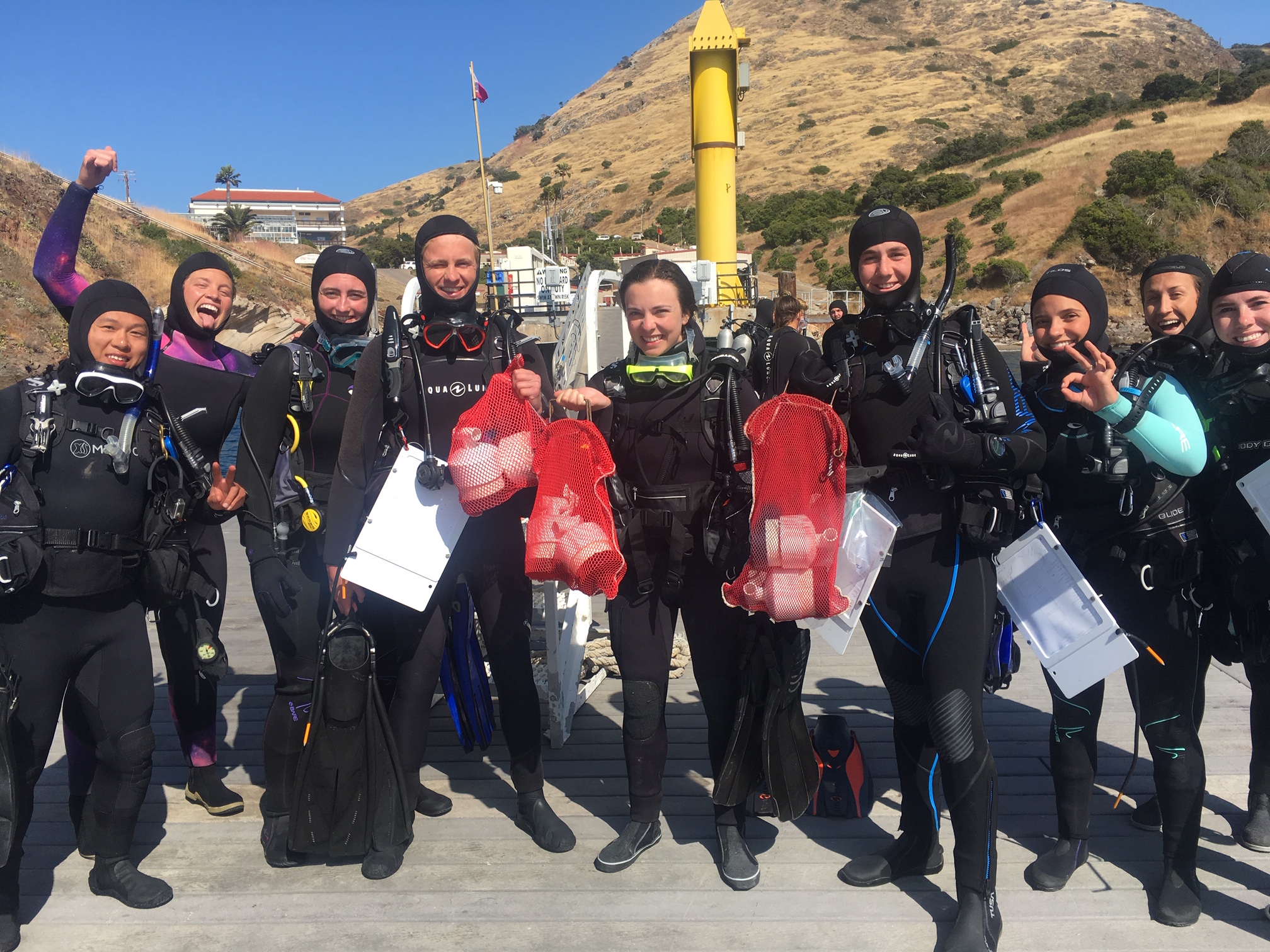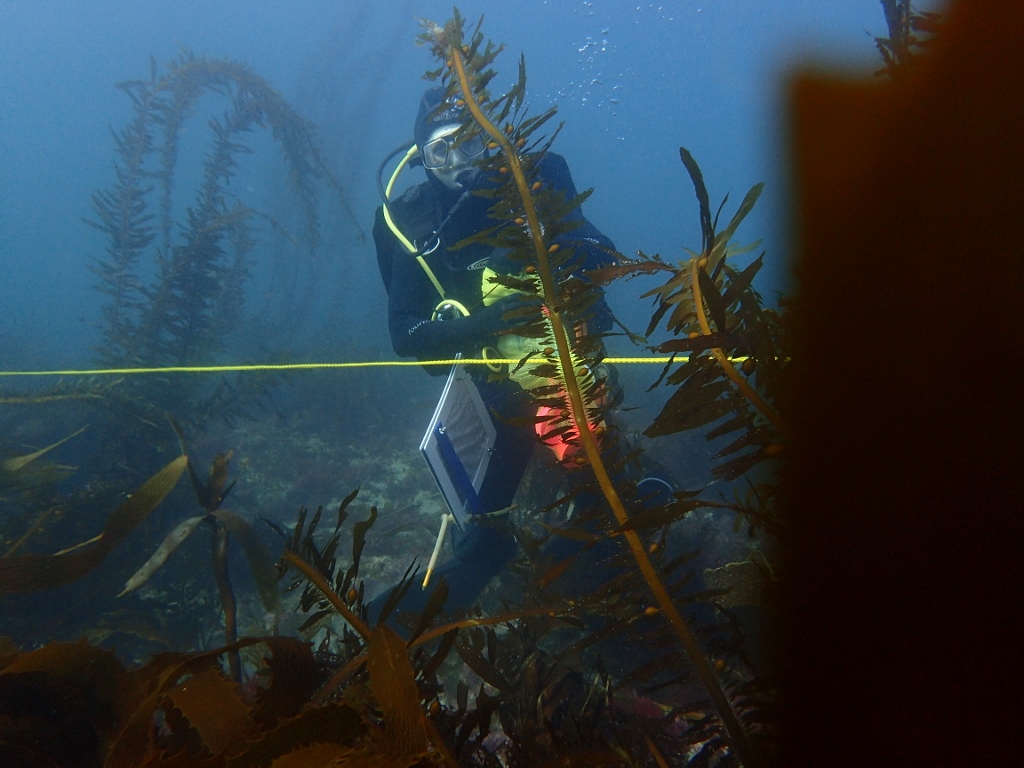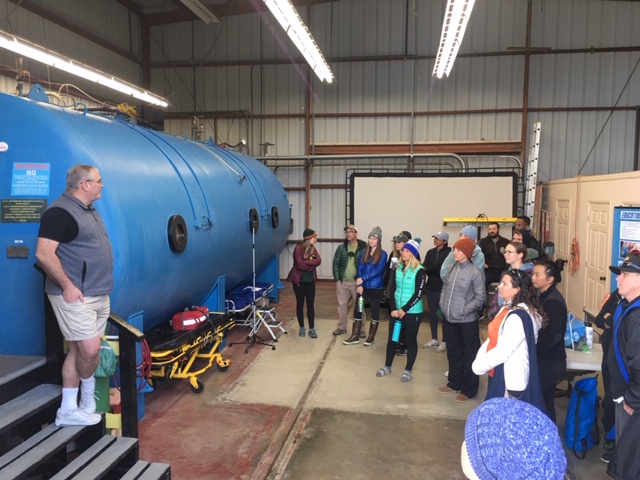 The 100 hour course is based on the
American Academy of Underwater Sciences (AAUS)
 standards in order to dive under the auspices of
SDSU
or any other AAUS Organizational Members like the
California Science Center
,
Scripps Institution of Oceanography (SIO)
,
UCSB
, etc. In order to be fully certified as an AAUS/SDSU scientific diver, already certified divers must complete a check-out open water scuba dive with the DSO and at least 11 additional dives under the direction of the DSO or a delegate for a total of at least 12 open water dives. Depending on the individual diver's ability, additional dives might be required for those divers. Divers must demonstrate adequate scuba skills, knowledge of the local diving environment, successfully complete ALL pool work, lectures, and pass a written final exam. See below list of requirements for specific details. Upon successful completion of the course and an additional 50 logged dives, divers will be eligible for a NAUI Master Diver Certification, NAUI's highest non-instructional certification.
We will ask you to perform the swim test on the first day of class, allowing us to understand your water abilities. This is a Research SCUBA course, not a class to train future Olympians and we hold attitude higher than actual swimming abilities. Divers are required to perform the following skills sometime during the first three days of the class, so candidates will have multiple chances to repeat the given skill if you do not perform it to satisfaction the first time:
Swim underwater for a distance of 25 yards without surfacing
Swim underwater using fins for a distance of 50 yards, surfacing no more than two times
Swim 400 yards in less than 10 minutes
Tread water for 10 minutes
Transport another person of equal size a distance of 25 yards in the water
Candidates can use a mask or swim goggles for the swim test. No fins or other swim aids may be used unless otherwise noted.
EQUIPMENT:
Divers will be responsible for the following equipment:
SCUBA mask
SCUBA fins
SCUBA snorkel
SCUBA booties
Gloves
Exposure suit appropriate to candidate's temperature tolerance level
Weight belt with appropriate amount of lead for exposure suit to be used in the ocean
Underwater timing device (dive watch)
Underwater cutting tool
Optional but preferred:
SCUBA buoyancy compensator (BC)
SCUBA regulator
NOTE: Candidates must provide receipt of either purchase of the new equipment or proof of overhaul in the last 12 months for the SCUBA regulator and BC.
SCUBA tanks, air fills, and pool weight belts will be provided along with all necessary training supplies (books and handouts) on the first day of
class.
DIVE MEDICAL EXAM:
All candidates must pass a dive medical exam prior to engaging in SCUBA class activities so please schedule an appointment ASAP for the laboratory tests will require some time (see list of suggested medical providers-you can still use your own physician if you so prefer).
The signed medical exam is due on the first day of class. Depending on your health care provider, the exams cost $200-$400.
DAN INSURANCE:
Additionally, we require that all divers have a current Dive Insurance Policy such as DAN at the time of instruction. Please provide a scan or print a copy of your current card.
COST:
Cost for the class will be $150-250 depending on the number of students attending.
Upon successful completion of all requirements, if candidates wish to receive a NAUI Rescue Diver Card, CPR/FA/O2 cert or a NAUI Master Diver Card there will be an additional cost of $18 per card.
APPLICATION:
Complete and return via e-mail the attached application to the DSO. (Download Word Document)